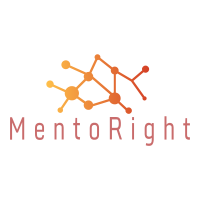 Mentoright is a global virtual mentoring platform
The idea sprouted from my own need for mentorship when I was exploring the field of synthetic biology .. I had to go to a summer training camp at IIT Delhi to find a mentor that would eventually answer all my questions ....
So , when I was planning to quit the 9-5 and thinking about starting my own venture , I thought about starting a platform that facilitated the interaction of mentors and mentees .
The 'niche' is what would make the difference, because there had been a lot of failed startups that had ventured out into the mentoring spaces, and had failed .. and I didn't want my startup to be one of them.
After a little research I zeroed in on the Canadian Immigration market , as new immigrants to Canada tend to need a lot of guidance to establish their career from the ground up after entering the Canadian job market .
As a result .... the idea for ' MentoRight ' was conceptualised ...
Eventually , the website will cater to mentoring in all industries, but for now , it'll be mainly catering to the fresh Canadian Immigrant demographic .
The main objective of the website is to :
Provide new Canadian immigrants with lot's of job opportunities
Help new Canadian immigrants decide on the province to settle in
Help new Canadian immigrants establish a strong social and professional network